Along our way we worked on a lot of projects, both big & small & as we grew as an agency, the need for our official website became a necessity. We were active on multiple social media platforms but almost daily we would find ourselves faced with the question "Do you guys have a website?". That's when we knew we couldn't put this on the back-burner anymore.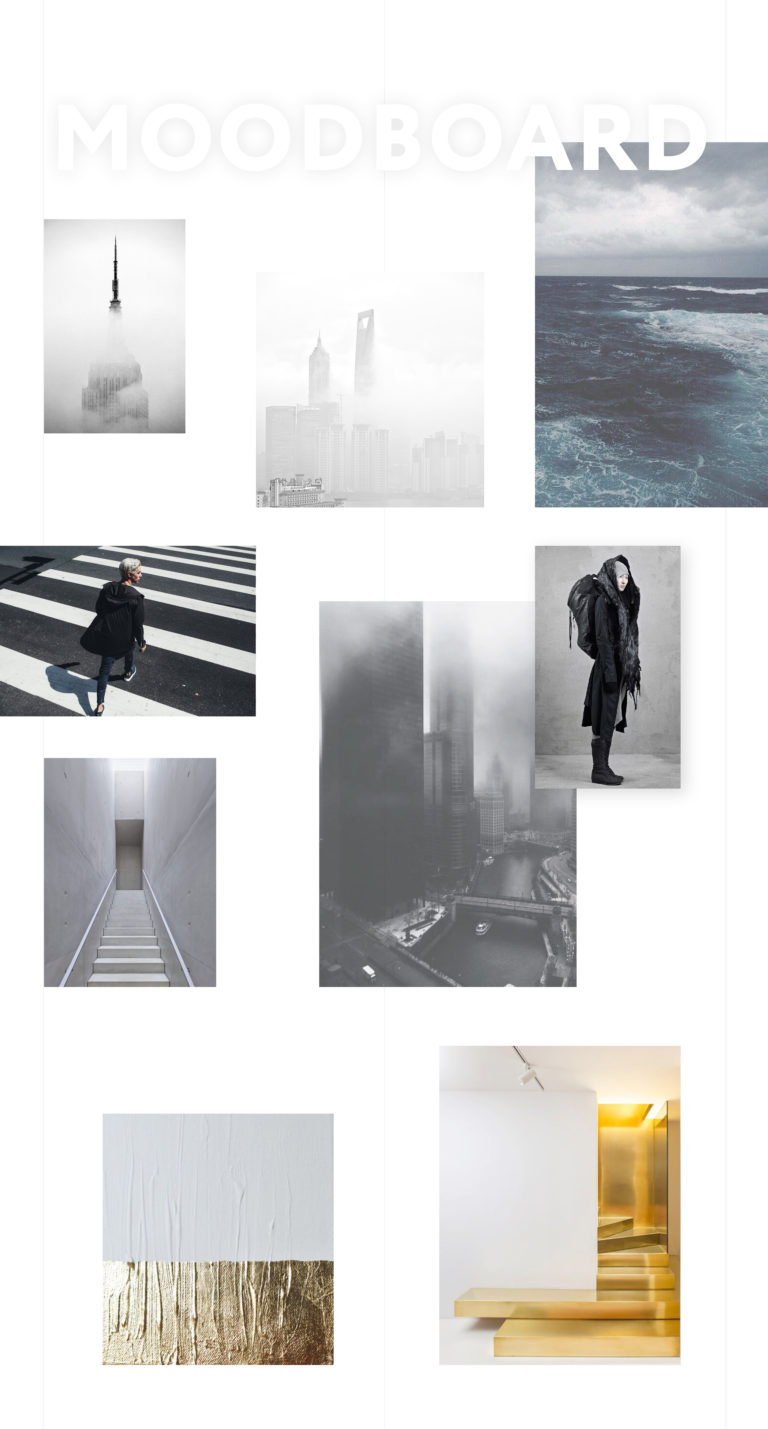 The initial concepts of our website & online brand.
Its was formed around the idea of a unified global city, which represents the common urban culture around the globe.
The Core Concept of the Website & Our Online Brand
The core element of our website & our online brand was formed around the idea of a unified global urban cityscape, with skyscrapers from all around the globe. This symbolises the continuous urban culture around the globe & our logo in the sky represents how design(read we) influences it. For us this was the most powerful & condensed way to communicate our core ideology that we formed our agency around in 2014. We used webGL/three.js to bring the city section alive with real-time 3D water, realistic cloud movements & visual parallax effects among other stuff. Other than that we used Flat design 2.0(aka Material design-but minus the loud colours ) for the overall design system of our website paired with our brand colour scheme of gold, white, greys & black in a minimalistic but powerful way. All of these elements combined will give our audience a clear & "meaty" feel for who we are as an agency & what we stand for.
Our finalised brand colours & fonts.
The UX Structure & Navigational Setup
On the structure & UX side of our website, we created a multiple page format website with individual pages for services, contact, about us, blog & even a lab page for all the individual or experimental work we do as a team. All of these pages are linked through the homepage & the hamburger menu, the hamburger menu being the navigation tool which can be used to jump from one page to another at any point in the website. But then again all of this is pretty standard for agency websites. We split our service offerings into two main categories 3D visuals/content & Branding/design, with each having their separate service page. Both the service pages have sub-segments with details on more specific services under those categories like AR/VR 3D assets, 3D rendered images & videos for the 3D visuals service page & branding, branded content & creatives for the Branding/design service page. Also both the service pages have grids with multiple cards, each linked to a project case study page which can be accessed by clicking on the card. We have included case studies of some of our recent projects like the 3D rendered images we did for JSW Steel's campaigns & also a lot of our internal agency projects as well.
And Along This Path We Made Some Amazing Friends
We could have never accomplished all of this without the help & support of all the new friends we made along the way. By friends we mean all the people we collaborated with while working on projects, both internal & client projects. Among all of the projects we have worked on, the biggest one for us was our own website & we never would have been able to successfully complete it without all of the hard work put in by the amazing people at Nextpage, Ukraine especially Yegor & Roman who worked with us closely to not only understand our needs & what we wanted to communicate through the website but also how to execute it in the most effective way possible. Also we worked with a brilliant developer from the Philippines, Armstrong who helped us with the WebGL development part which was a bit tricky to get right but he put in the effort to make it work perfectly & we hope that we keep working with him in the years to come. 
It doesn't just stop at internal projects either, we have made some super cool friends at all the other agencies that we have collaborated with to provide them our services. All of our new friends everywhere helped us really validate our initial belief system through a lot of thoughtful discussions. We knew that their opinions matter because they are experts in their verticals & some even industry leaders of it. Almost all of them validated our belief sets. All our own experiences of the last 4 years combined with the support from our friends & a solidified brand really made us feel we are on to something here & we were ready to confidently tell the world all about it. Through our website.
And that is why it took us 4 years to launch our website. And as I said that you'll know why it took us 4 years to launch our website at the end of this post, well it's the end of this post

Prabuddha Paul